Wall Painting Ideas for Hall
Gone are the days where halls needed to be painted in beiges and whites. Wall painting ideas for halls have taken a new turn in 2022, opening the door to a variety of hall paint designs, textures and colours. After all, halls are where we celebrate the spirit of togetherness, entertain guests and spend family time.
What do we keep in mind while choosing wall painting designs for halls?
Keep your mind open. Be open to experiments and newer choices to transform your space
Stay true to your colour scheme and understand the pros and cons of your choices
Choose wall painting ideas for halls based on your personality, values and choices
To keep it simple, play with colour combinations and contrasts
Understand your rooms walls, furniture, functionality and traffic
Take a look at the 5 trending wall painting ideas for halls in 2022
Our experts have carefully designed a list of 5 trending wall painting ideas for halls based on homeowner choices, latest styles and market research.
Chevron and herringbone are common patterns used for wall painting designs. Chevron patterns are usually V shaped and inverted, placed closely together to give an abstract yet organised look. Herringbone patterns are inspired by the bones of the herring fish. They look similar to chevrons but are rearranged rectangles. Both these patterns are chic, minimal and sophisticated textured wall painting ideas for halls. These patterns are also deemed suitable for bedroom walls.
Here are a few ideas to place herringbone or chevron patterns beautifully in your hall design plan:
Herringbone/Chevron patterns work well if you want to paint panels
Use these patterns in matte paints for a classy and sophisticated finish
Herringbone patterns can use two colour combinations for vivid looks
Chevron patterns can be painted in gradients of the same shade
Suited for: Wall unit areas, wood panelling, ceilings
2. Abstract Colour Blocking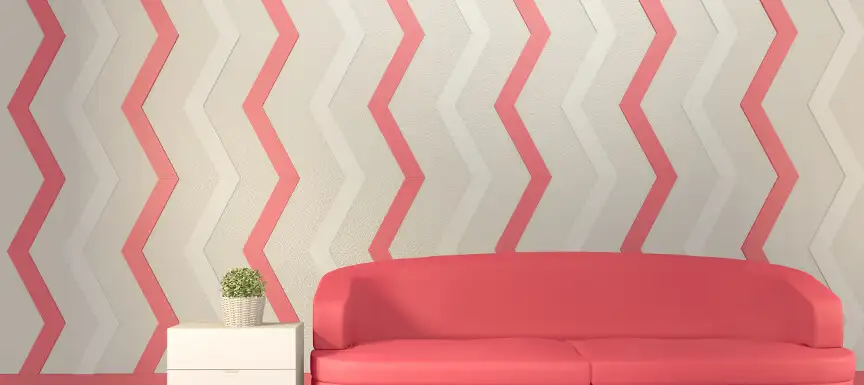 Colour blocking is a simple wall painting idea for halls. It can be done in a geometric or abstract fashion, simply using paints. Colour blocking works well when you want to stay vivid and not play too much with patterns or textures. Colour blocking wall painting ideas give you the liberty to make your hall appear trendy, detailed and energetic with minimal effort. Here are a few ways to experiment with colour blocking:
Pair contrast colours and divide your wall to make a bright statement
Use muted tones of the same family to give a subtle touch of design
Use shapes as the differentiating factor with pastel colours
Colour block from walls to floor or from ceiling to walls as a continuous trail of paint
Suited for: Window areas, balconies, cabinets, doors, portrait walls, hallways
3. Wall Murals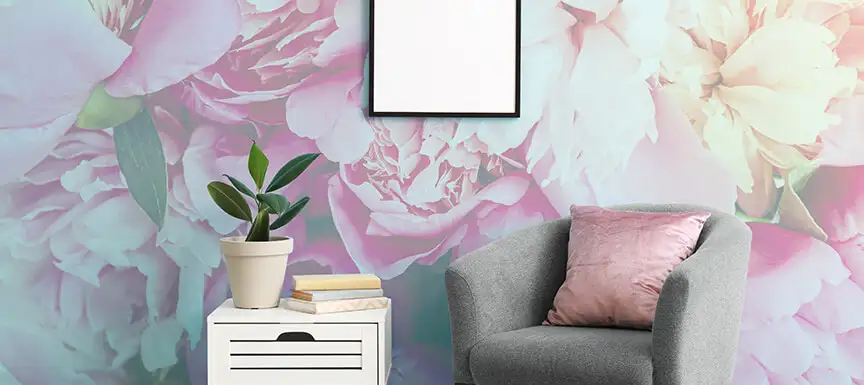 Let your walls be the canvas and wall murals can become an expression of your art in the living room. One of the most common and popular wall painting ideas for halls, wall murals continue to dominate in this landscape. However, homeowners are now opting for painted murals to give walls a canvas-like finish instead of having paintings hung. Here are a few ways to modernise wall murals as wall painting ideas for halls:
Free hand murals painted by yourself on a bare wall
Chalkboard murals have been a trend recently, giving a chalk-like design to walls
Sponge-effect painting ideas can also become a trendy wall mural
Suited for: Couch backdrops, focal walls, portrait walls
4. Texture and colour combination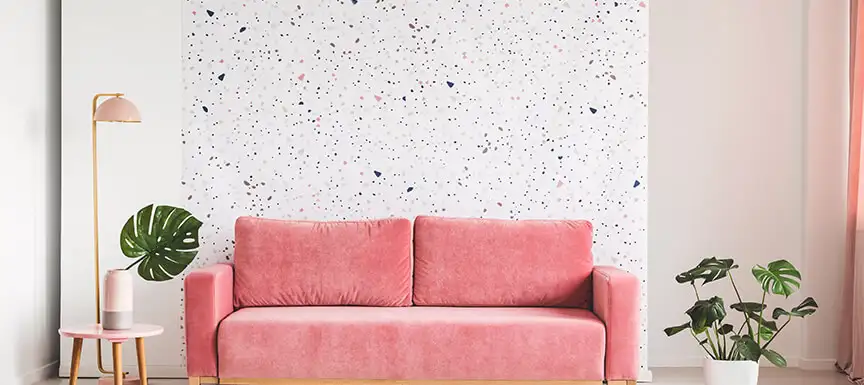 Textured walls are a sought after choice in the wall painting ideas arena, but textured walls paired with the perfect colour scheme adds to the grandiose of your living room. With texture and colour combinations, homeowners can move beyond just a single wall and can view the space as a cohesive masterpiece. Imagine one textured finish in matte as the focal wall, while the other walls are in the same shades of the texture defining the character of your room.
One of the creative wall painting ideas for halls, texture and colour combinations are to be smartly decided so as to see a satisfactory result. We must keep in mind ventilation, traffic, space, furniture, colour scheme and lighting (ambient and natural). This wall painting idea is perfect for walls since it's the largest space in the house and gives you room to weave colours and textures together.
Suited for: Spacious living rooms, dining areas, living rooms with balconies
5. Pop colour combinations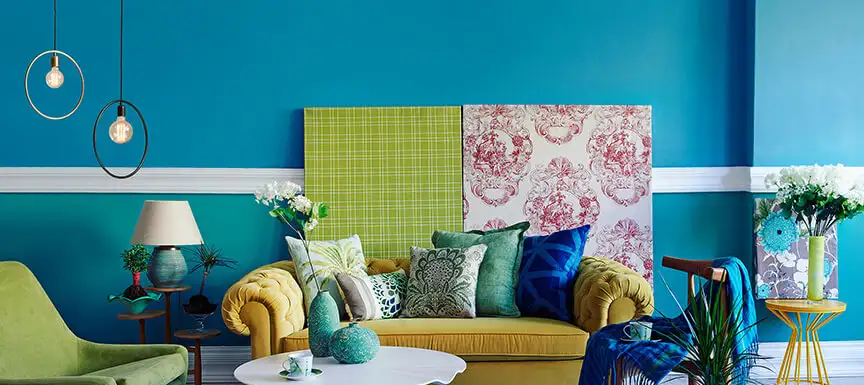 There is no limit to the number of wall painting ideas for halls, but as homeowners you need to be aware about the trends, your choices and the design styles available. However, the living room is not the only space that needs your attention. We also have handpicked wall painting ideas for homes:
For your home: Discover 11 wall painting ideas for your home
For your bedrooms: Find 7 unique wall painting ideas
For your kitchens: Find 5 wall painting ideas to make your kitchen statement