What do homeowners look for in a bedroom? Peace, tranquillity, comfort, persona and self-reflection. Your bedroom is meant for you to feel cosy, at-home and positive. Hence it is important to choose the right paints, wall painting ideas and colour schemes for your bedroom. Colours and designs have the power to stimulate creativity, boost your mood, set the tone for relaxation and become your means of expression.
To begin with, we can introduce you to a few wall painting colours for your bedroom:
Blue – Warm shades of blue bring in tranquillity and peace
Red – Brings in high energy, boldness and is timeless
Grey – An evergreen, sophisticated choice for minimal-looking spaces
White – The classic that induces peace, serenity and works well with natural light
Green – Represents growth, prosperity and nature bringing in a cosy environment
Now that you know a little bit about the major colours, let us introduce you to 7 latest wall painting ideas for master bedrooms and indian bedrooms below.
1. Nature-inspired bedrooms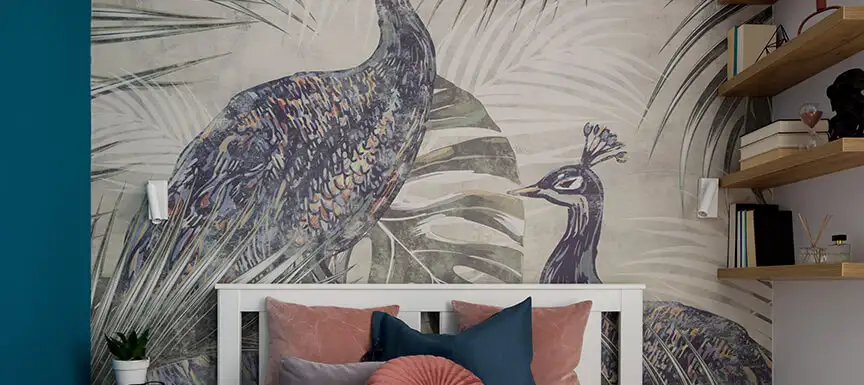 Apart from having lovely succulents and vines in your abode, you can go a step further by painting your walls in nature's shades. One of the latest trends of 2022, nature-inspired patterns, decals, stencils are great wall painting ideas for master bedrooms. Whether you go for minimal leaf patterns, deep murals or tropical motifs, these wall painting ideas are rooted, warm and meant to make your bedroom cosier. Here are a few nature-inspired wall painting ideas you can explore for your master bedroom:
Keep it simple: Just go with the green family to represent nature
Play with patterns: Minimal leaf designs on bare walls look perfect and soothing
Motifs: Nature-inspired motifs are a popular wall painting idea for Indian bedrooms
Floral patterns or accents: Flowers are always a favourite in the bedroom
Suited for: Small bedrooms, master bedrooms, headboard walls
2. Play with patterns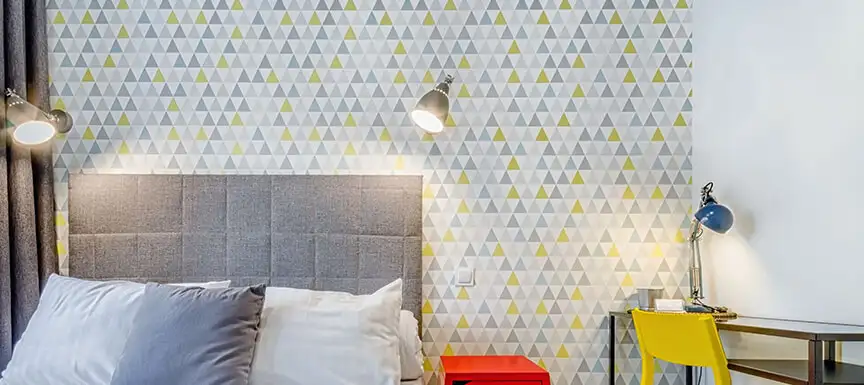 Patterns and motifs are timeless when it comes to wall painting ideas for bedrooms. Choose a pattern that best represents you and match your colour scheme with it to create the bedroom of your dreams. Patterns give us the liberty to add a dash of design to bare walls. There are numerous patterns and colour combinations for bedroom walls to choose from. Here are a few wall painting ideas for your master bedroom:
Traditional patterns like mandalas and motifs for the Indian bedroom
Geometric patterns combined for organised design
High-glossy patterns on matte finish walls
Simple shapes with pop colours for vibrant master bedrooms
Contrasting patterns for statement walls
Suited for: Indian couple bedrooms, master bedrooms
3. 3D textures for bedroom walls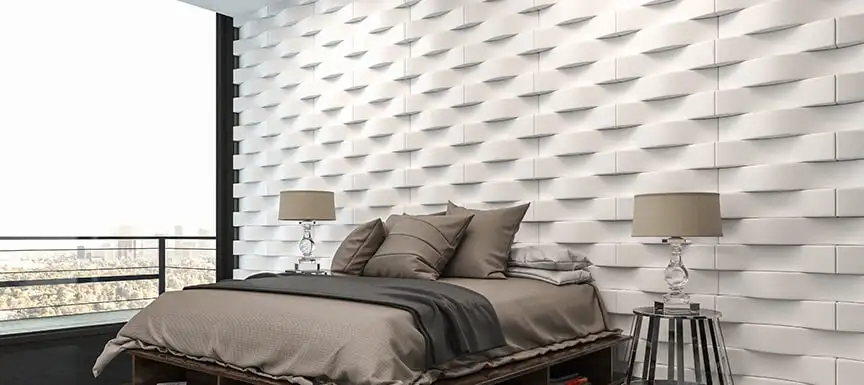 3D textures and wall paintings are the best way to give a room an illusion of space, design and depth. It is one of the most sought-after wall painting ideas for bedrooms in recent times. With everything being demanded in 3D, walls have also adapted to the same. 3D paintings are a perfect landscape for self expression and design in your master bedrooms. Most Indian bedrooms have 3D walls painted with idols to give a traditional and cultured feel. Other 3D textures that are popular are florals, motifs and scenic landscapes.
Suited for: Bedrooms with negative space, feature walls, open walls
4. Matte grunge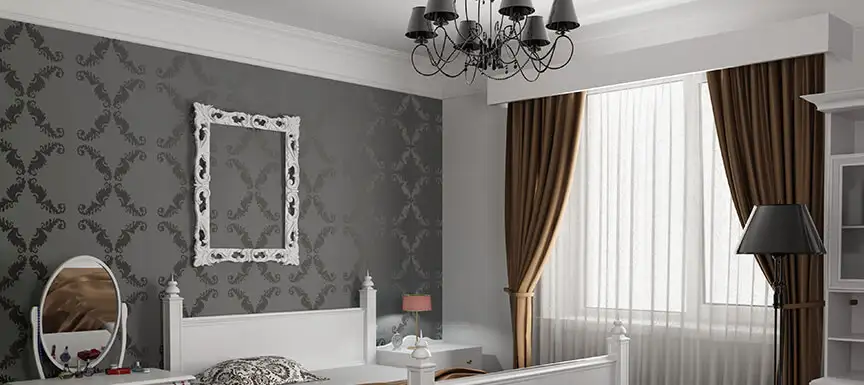 Elegant, sexy, monochromatic, gothic – if you want your bedroom to look like this, go for matte-finish grunge wall painting ideas. Grunge is a popular choice for most homeowners these days. With matte-finish, it adds an edge to master bedrooms and their chosen colour scheme. A great wall painting idea would be to use matte grunge colours for your ceiling as well.
The absence of sheen lets the wall take centre focus and add a soft environment to your bedroom. Grunge in matte works best as a wall painting idea for master bedrooms when it is perfectly paired with similar upholstery, cabinets, and carpets.
Suited for: Modern houses, master bedrooms with minimal wardrobes, bedrooms with lots of natural lighting
5. Single wall accents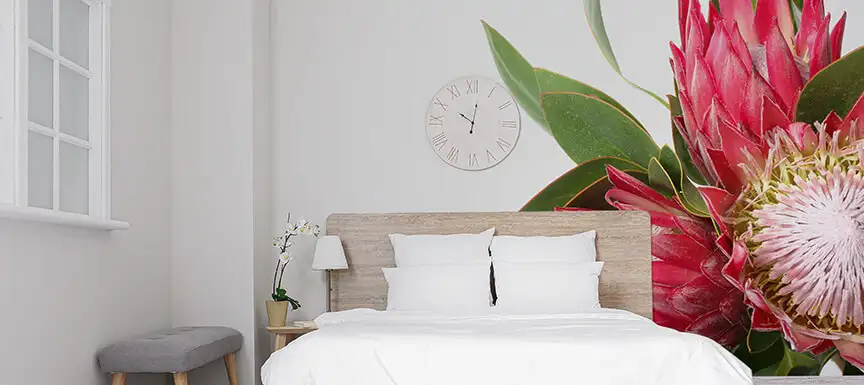 Wall accents have gained prominence lately in the arena of wall painting ideas. A single wall accent is when one design, accent or motif adorns a bare wall stealing the spotlight. One of the most popular single wall accents for bedrooms are floral designs. A single focal point on a bare wall creates a perfect balance of space and elegance in your bedroom. If homeowners want to keep it simple and classy, they must go for this wall painting idea for their master bedrooms.
From flowers, shapes to an abstract motif, a single wall accent looks charming and pleasant on bare walls, further breaking the monotony of plain colour in your bedroom space.
Suited for: Headboard walls, plain walls, ceilings
6. Traditional wall painting ideas for Indian bedrooms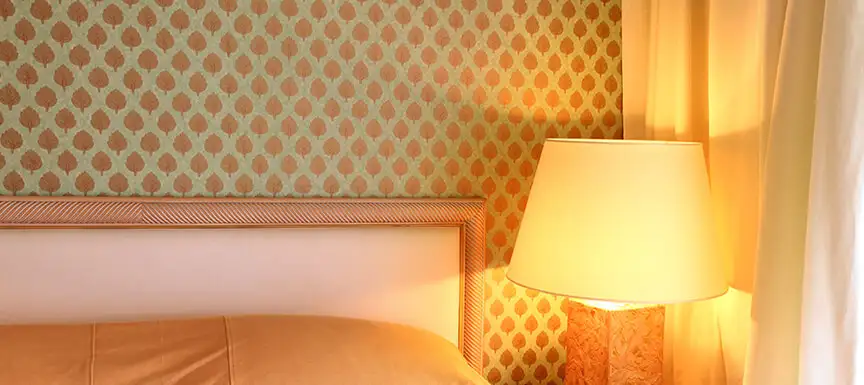 Indian wall painting ideas are very distinguished from the rest. Ethnic, Indian patterns and motifs are easily recognizable and are very popular in Indian homes as well as across the globe. To add a zing of desi-ness to your Indian bedroom, you can experiment with motifs, prints, golden accents, mandala art and vibrant colours. Here are a few ways you can opt for traditional wall painting ideas for Indian bedrooms:
A royal blue wall with ethnic white prints will bring in a rustic vibe
The traditional, ornate golden prints on basic, bare walls add a touch of ethnic
Multi-coloured approach to showcase multifaceted culture on walls
Single wall accents of the traditional Hindi symbols on walls
Suited for: Indian couple bedrooms, puja rooms, headboard walls, ceilings
7. Geometric patterns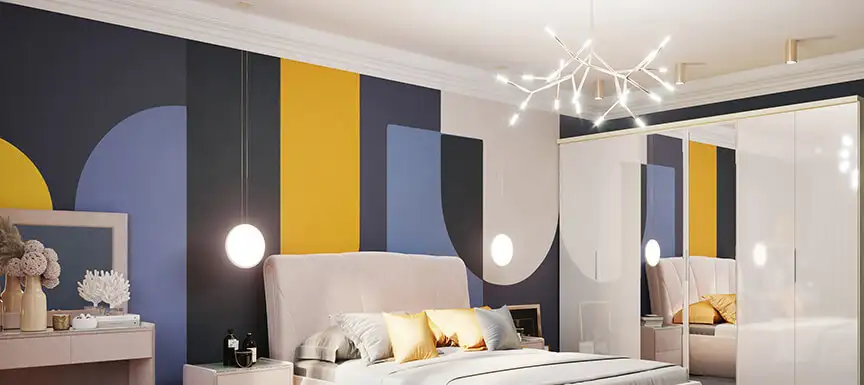 Wall painting ideas need to be carefully sifted through to find the right pick for your walls. From bedrooms to kitchens to halls, there are a variety of designs available to transform your space. If you've found the pick for your bedroom, take the next step by redefining your kitchen and your hall with amazing wall painting ideas of 2022.