Expert advice on choosing exterior wall paint colours with simplified tips
Selecting best exterior wall paint colours is one of the most significant parts of your home improvement project.
When choosing interior wall paints, homeowners like to meticulously select palettes, combinations, finishes and layouts. However, most homeowners make common mistakes while choosing exterior wall paints without taking various factors into consideration. Exterior house paints are different in comparison to interior wall paints because significant details like roofing, curb value, weather conditions and combinations come into play.
Here are 7 expert tips to select the best exterior wall paint colours.
Tips to Find Best Exterior Home Paint
1. Choose a combination that ticks all the checkboxes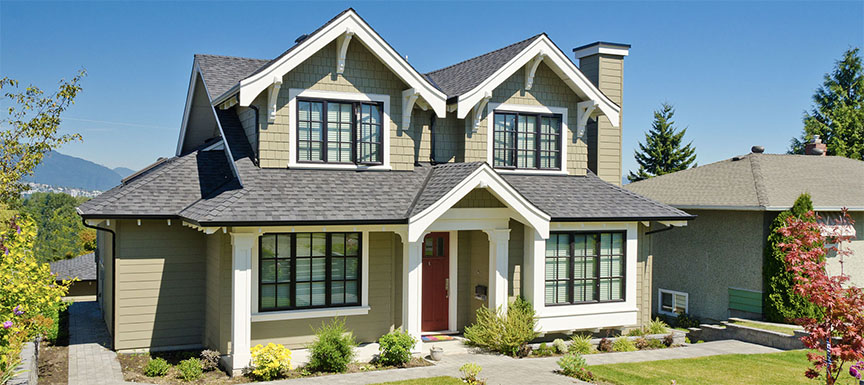 Will the exterior paint bring out the vision you have in mind?
Will it accentuate your furnishings?
Will it survive the weather?
Will it blend in with your neighborhood while still making a statement?
Here are a few tips to get the right colour combinations for your exterior paints.
For character: Opt for similar colour family combinations
For stunning results: Ditch western tones, opt for Indian, vivid palettes
For texture: Combine stonework/brickwork with modern wall paints
For a large-scale view: Choose beige/white with modern light fittings
For sampling: Use testers on your walls before proceeding with it
For dust-prone areas: Use neutral combinations as darker tones attract dust
2. Pick your inspirations wisely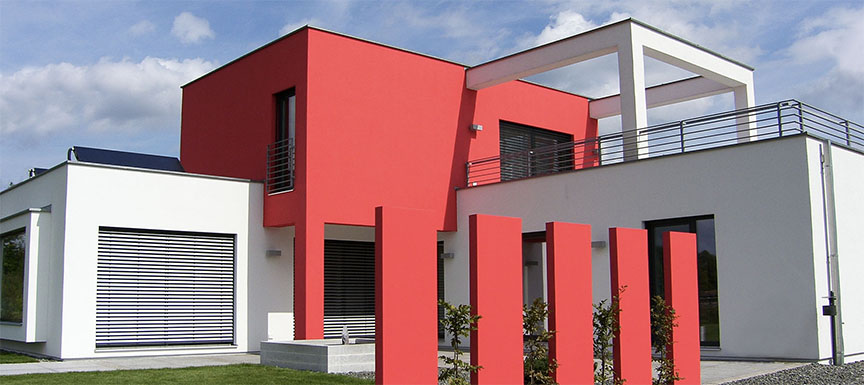 Whether you go back to architectural history and monuments from the Victorian era, or to your modern-day Pinterest – inspirations are a must for a successful output. An outside paint for house may look great on paper, but a homeowner needs to analyze surroundings, weather, moisture-levels and neighbourhood colour schemes.
Another important tip is to understand the style of your home and then find home paint colour schemes that will suit it. A contemporary structure may not don vibrant colours as well as warm neutrals, whereas a cottage-type outdoor will look great with earthy tones.
For a subtle statement: Draw colour inspirations for accents and doors
For weather-prone areas: Research well and choose a functional outside paint for house
3. Compliment your roof colour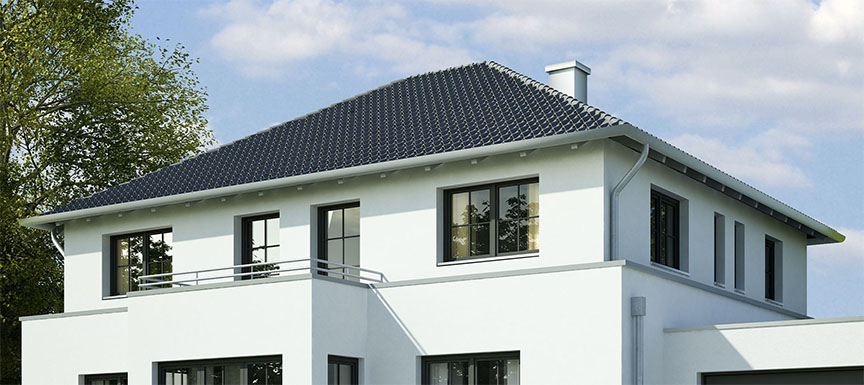 The most common mistake that homeowners make is neglecting the colour of their roofs, leading to a complete mismatch of palettes.
If your roof is a sloping roof, it adds to the structure of your exteriors and must match your current colour scheme.
Whether your roof is made of copper, metal or tiles, this needs to be kept in mind before making a colour scheme decision. The art of choosing outside paint for your home lies in complimenting the details and adding value to the bigger picture. The tiny details include your greenery, accents, furnishings, neighbourhood and of course, your roof.
4. Think about your curb appeal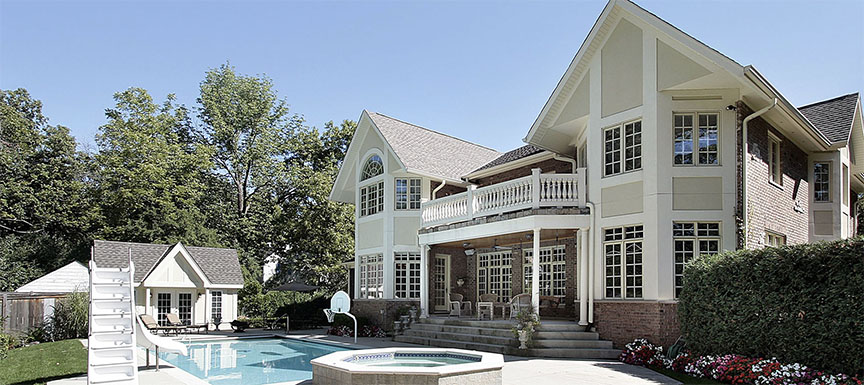 What is curb appeal? It is the attractiveness of the house on the outside that adds value to the neighborhood.
Come what may, you don't what to be that one house that does not sit right in the neighbourhood. Neighbourhood colour schemes are important for aesthetic value as it adds a good balance to greenery, the driveway and the architecture around.
Here are a few pro-tips to choose an exterior wall paint that adds to your curb appeal:
Choose paints that go well with light fittings for a nice curb appeal at night
Paint exterior furnishings like the door, the fences or the porch floor with pleasant wall paints
5. Play with finishes and textures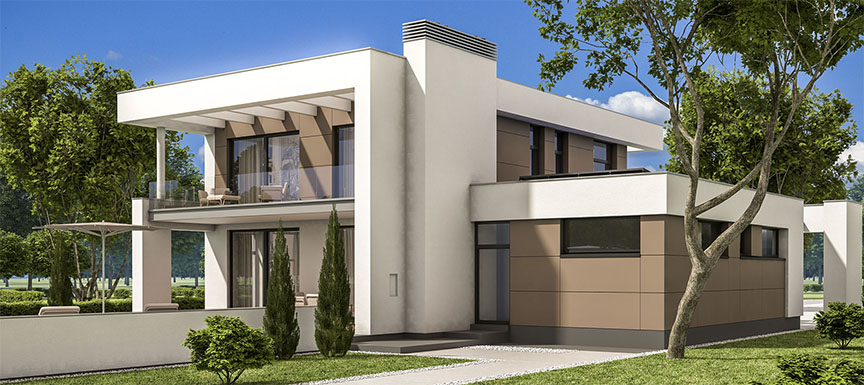 Some textures provide both, an intermediate finish and a textured look to your walls, further adding character to your combination. Brick walls, stone walls, marble walls go well with neutrals and this combination is popular for increased curb appeal. Even wooden textures have lately picked up pace in trends, with a lovely, mellow yellow combination.
Hence, do not just splash your walls with paints, try texture-based paints if needed to add a tinge of modern art to your walls. Or, you can simply let construction material work as a piece of texture to your exteriors paired with warm neutrals or dark shades.
Here are a few types of textures and finishes one can pair with exterior wall paints:
Stained glass finish | Pebbles finish | Sand textured finish | Wood panelling
6. Longevity and durability matter too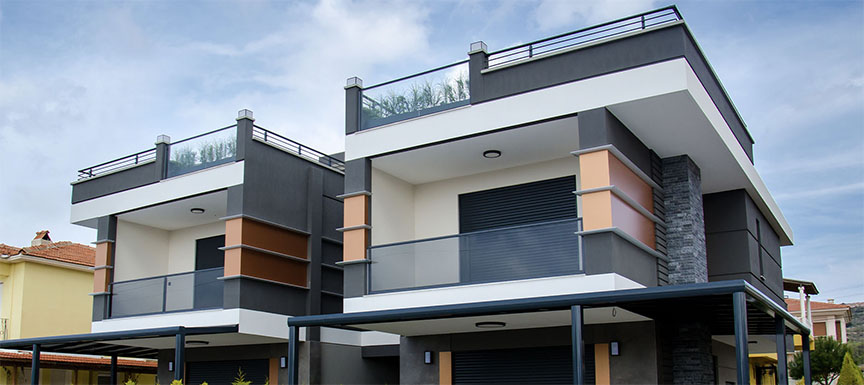 No matter the colour you decide, it does not matter more than the level of durability and longevity the chosen paint adds to your walls. While aesthetics do add value, in the years to come, your house needs to look as good as new considering the investment homeowners make in home remodelling projects.
Pro-tip: Acrylic paints are the best type of exterior wall paints, known for longevity and durability with coat adhesion and all-round protection. Let's also give you a rundown on the type of finishes and what value it adds to your exterior walls:
Satin/eggshell: Low reflective in terms of finish and best for siding and stands up to corrosion
Semi-gloss: Easy to clean, best for weather-exposed areas like windows
High gloss: Strong, durable and dirt-repellent, perfect for richness but showcases imperfections easily.
7. Check if the paint is weatherproof
Weather conditions do not remain the same throughout the year. From daily UV radiation falling onto those walls to weather conditions like rainfall, winters – exterior wall paints are a strong coat of protection that need to have the durability and longevity to withstand all the above and not succumb to cracking, peeling or fading. When looking for an all-rounder exterior paint for your walls, you need to look at paints with high-quality resins, cleaning properties, adhesion value, pigments and additives.
Here are a few great exterior paints that are all-rounders in terms of good looks and protection:
Green tip: Go for paints with low VOCs to have a clean environment around and in your home. VOCs are volatile organic compounds, that affect the air quality and can impact health to a certain extent too.
Additional tips to keep in mind before choosing the best exterior wall paints for your home:
Design and choose exterior wall paints according to elements in your surroundings that are permanent
Sample your paints because the sun may bring out different undertones on your walls
Choose an exterior wall paint that matches your weather and surroundings
Exterior wall paints are used typically in summers because of its drying properties
Less is more, try to limit the choice of accent colours and exterior colours so that the big picture is in harmony with balance
Use these tips as a handy guide in your home improvement project and we're sure they will work well!
To learn more about home improvement journey and its various facets, here are a few links that can guide you:
Colour combinations for your home